Load Up On These Healthy Salad Recipes!
We all know including vegetables and fruits in our diet is necessary for the proper nutrients. A salad might sound boring. But it's the easiest way to get all the minerals and vitamins your body needs. It also helps increase your intake of antioxidants as well. The pigments in plants are rich in carotenoids, including vitamin A and all other forms like beta-carotene, lutein and lycopene. And why am I telling you about all of these? Because they're super awesome nutrients your body needs to thrive! Each one of them keeps your body disease-free. We'll talk about these nutrients in another article. For now, let's focus on ways to add these veggies to your diet.
Three Ingredient Mediterranean Salad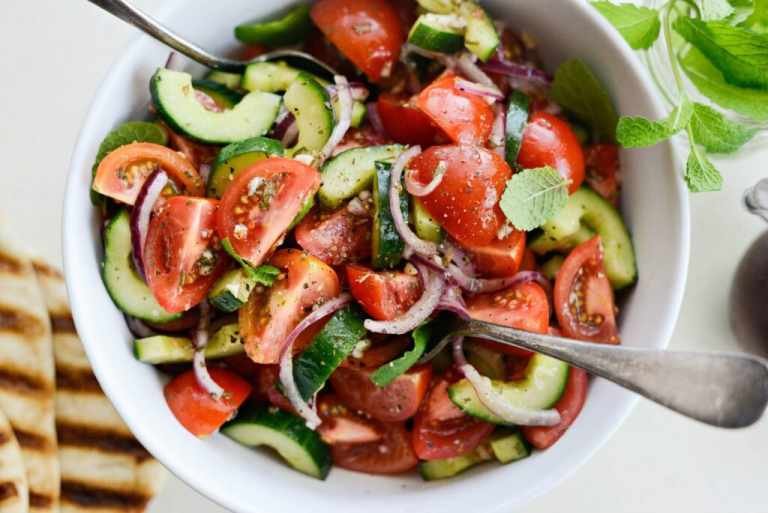 If you are looking for the simplest and easy salad, I have a recipe for you. It's a lazy three-ingredient, Mediterranean salad. There are three main ingredients involved, and that's tomatoes, cucumbers, and parsley. It's a super simple, quick and refreshing salad I'm sure you are going to like it.
Ingredients
Roma Tomatoes
English Cucumber
Fresh Parsley
Preparation
Take like six or seven Roma tomatoes. And we're just going to cut those up in whatever way you like. Okay next, we have English cucumbers or you can use any cucumber you like, but seedless. Just dice them nicely, to mimic the shape of the tomatoes that you already diced. Diced cucumbers go right in the bowl with tomatoes. All right, so these are two of the three ingredients.
Fresh Parsley
Are you ready for the third, fresh parsley? And I know a lot of people use parsley as a garnish. But you guys can also use parsley as the main ingredient. Because it is absolutely tasty! And there's no limit to how creative you can be with your ingredients, right?
Cut just a little bit of the stem off, but use the rest of the stem. Because that's where a lot of the flavour is. Chop the parsley but watch your fingers. You can develop some muscles doing this you know. Multitasking, exercise, plus, chop parsley at the same time. So that is our third ingredient so far. I know you're thinking that's already three ingredients. I still have to dress my salad. So it's okay if you're counting. It's a little more than three ingredients, but it's fine. Now you have your three main ingredients, tomatoes, cucumbers, and parsley in the bowl.
Flavorings
And now we'll add the flavours. So start with some salt. Kosher salt. And the reason is this kind of gives the tomatoes and cucumbers and parsley kind of a chance to sweat a little bit. And that develops some more flavour. So, set this salad with salt first, and then give it all a mix. Add the rest of the seasonings later. So give that all a good mix and just kind of leave it, for a minute or two.
So then next we'll add pepper, just a pinch or two really to your liking. Such a forgiving recipe here, there's no order of things. Other than what I just shared with you about the salt.
Secret Spice
Then the secret spice, which is sumac. Sumac is just one of those, very Mediterranean, very middle Eastern spices, we use on all things, especially salad. I like it because it adds a little more Tang. But also depth to the salad. Add about a teaspoon or so of sumac, it comes from sumac berries actually.
Dressing
In the last step, we are going to do lemon juice and olive oil dressing. That's all there is to the actual dressing. Use your favourite kind of olive oil and then, of course, citrus. Every Mediterranean salad should have some citrus in it.  About two teaspoons or so of freshly squeezed lemon juice. Go ahead give everything a toss. And then just let everything melt for a little while before you serve it. But that's it, enjoy!
Mediterranean Chickpea Salad
Next, I'm gonna tell you how to make Mediterranean Chickpea Salad. This simple healthy salad is full of Mediterranean flavours. And it's super easy to customize to your own personal taste preferences. Feel free to leave out or add in any ingredients to mix things up and make this recipe your own.
Ingredients
Canned chickpeas
Cucumber
Grape tomatoes
Bell pepper
Red onions
Kalamata olives
Basil
Mint
Honey
Olive oil
Lemon juice
Spices
Preparation
To start you'll need 30 ounces of canned chickpeas. Which are also known as garbanzo beans. These are generally sold in 15-ounce cans, so you'll need 2 cans. Then give them a quick rinse, then we'll pour these all into a large mixing bowl. Now it's time to cut up all of our vegetables. You'll need either 1 English cucumber, which has thinner skin, or 2 regular cucumbers. If you're using regular, I recommend you peel them a little bit. And by a little bit, I mean peel it so that there are those little stripes that you often see on sliced cucumbers.
Dice Your Veggies
To dice a cucumber you'll want to start by slicing it in half lengthwise. Flip each half over, and slice them in half lengthwise again. Then you should be able to chop them into little bite-sized pieces. Then we'll add these in with our chickpeas. Now we need to halve some cherry or grape tomatoes. You can cut them in half lengthwise or down the middle. And if they're large you may want to quarter them. What you really want is just to make sure that everything is bite-sized. Of course, we'll add these into our mixing bowl as well.
Then we'll go ahead and dice up a bell pepper, really you could use any colour for this. With the bell pepper, I like to do a little smaller than bite-sized though. Just so you get that little bit of crunch spread throughout the salad. It is fun to use like a yellow or an orange bell pepper just for the mix up of colour in the salad. Now red onions are best for serving raw in a salad. And you can either slice these very thinly or dice them up, whichever you prefer. You want to use 1 small red onion or half of a larger one.
Fresh Herbs
Next up are our fresh herbs. You can use a combination of fresh mint and fresh basil. But feel free to play around with things, and you can always substitute in fresh parsley. Mince them up you'll need 2 tablespoons of each. Basil and mint go really well together. We're also going to add in 1/2 cup of sliced kalamata olives, and 1/2 cup of crumbled feta. That's it for our salad ingredients.
Dressing
Now we can move on to the dressing. While you still have your cutting board and knife out, slice a lemon in half. Because you're gonna need some freshly squeezed lemon juice, you need about 2 tablespoons total. And depending on the juiciness of your lemon and its size, it'll probably be about 1 small one. Or maybe 1/2 of a large one.
We'll go ahead and pour that lemon juice into a little mixing bowl. Where we're going to make the rest of our dressing. Next, add in 1-2 tablespoons of honey. And if you microwave it for about 10 seconds first, it mixes in a lot easier.
You'll also need 3 tablespoons of good quality extra virgin olive oil. And about 2 tablespoons of white wine vinegar, or you can use red. Then last, you'll add in 1/4 teaspoon of salt and ¼ teaspoon of black pepper. And whisk this together. You can always add more salt and pepper to taste.
Just remember you already have some salty items in the salad with the feta and the olives. So what you'll want to do is make the dressing as is, and then add more salt and pepper to taste.
All that's left to do is drizzle this over the salad and toss this all together. You can just serve this up in the mixing bowl or transfer it to a nice, pretty bowl for serving. This will stay good in the fridge for several days. So it's great to make a big batch of this at the start of the week. And enjoy it for meals the rest of the week.